The Democracy Day Speech given by the President of Nigeria, Muhammadu Buhari has been termed a study in dishonesty by Reno Omokri, in a long thread of Tweets he made a few minutes ago, Reno listened out fifteen lies that the president told in his speech hours ago.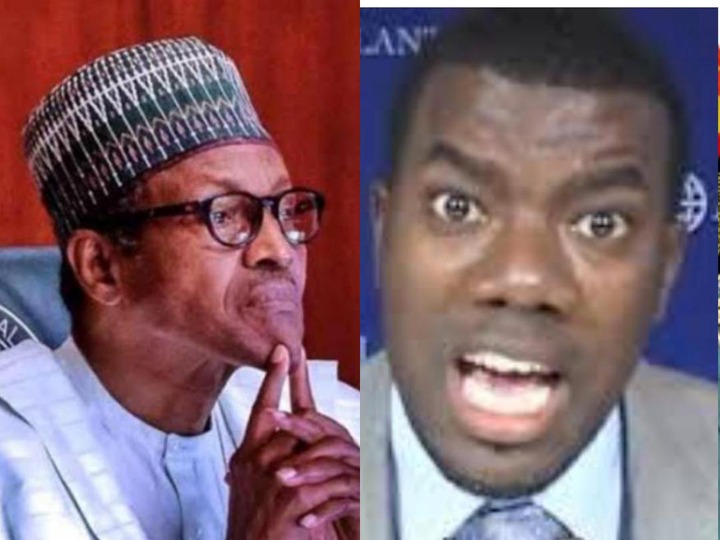 It is customary for the president to make a speech every democracy day, a day that is set aside to celebrate the freedom of speech and expression of a particular country or region.
President Muhammadu Buhari delivered his own speech a few hours ago and it has been causing a slot of reactions online, apart from the fact that many Nigerians day that the government is not practicing Democracy, they also stated that the president lied through his speech.
Reno Omokri has made a list of the lies he claims President Muhammadu Buhari told in his speech, the former Special Assistant to the former president Goodluck Ebele Jonathan, stated that the president lied all through the speech.
In explaining himself, Reno Omokri stated that the president first of all lied about pulling about a hundred million Nigerians out of poverty, whereas he made Nigeria the headquarters of extreme poverty.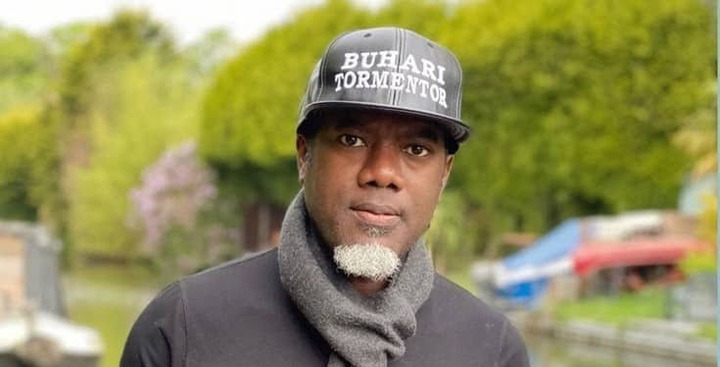 Reno also explained that the president lied secondly about borrowing sensitively, whereas his regime had crippled the nation and turned it into a beggar nation.
The third lie told by the president according to Reno Omokri was that he built infrastructures wholly focused on Nigeria and Nigerians whereas the highest project he embarked on was the railroad to the Niger Republic because he has first cousins there.
The fourth lie according to Reno Omokri was that the president lied and blasted about the second Niger bridge without mentioning that it was awarded and paid for by the Goodluck Jonathan's administration in 2014.
He went on and on, you can read the lies he claimed President Muhammadu Buhari said below, due to the policy here, I will only be sharing a few of the Tweets, you can get to the rest at the end of this article with the link;
1-General Buhari's Democracy Day speech was studied in dishonesty. Buhari claimed success in pulling 100 million Nigerians out of poverty. A wicked lie from a man who made Nigeria the world headquarters for EXTREME poverty.
2-Buhari said his regime does "sensible and transparent borrowing". A hideous lie. Nigeria's debt to revenue ratio is 90%. We owed ₦12 trillion in 2015. We owe ₦36 trillion today. Buhari has reduced us to a beggar nation
3-General Buhari boasted of building infrastructure "wholly focused on Nigeria". What an unnecessary lie from a government that awarded a $1.9 billion contract in Niger because "I have first cousins in Niger".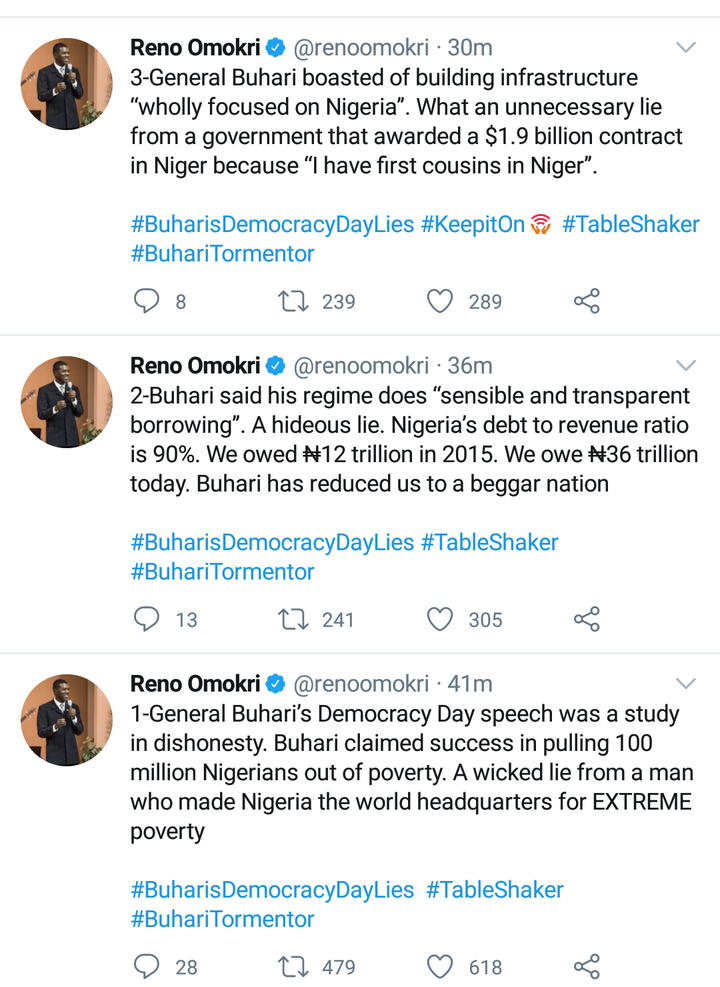 4-Buhari boasted of the Second Niger Bridge. He failed to tell you the contract was awarded to Julius Berger in 2014 as a PERSONAL INITIATIVE of Goodluck Ebele Jonathan, who paid ₦21.2 billion BEFORE leaving office
5-Buhari lied that "we lifted 10.5 million people out of poverty". Under Buhari, extreme poverty almost doubled in Nigeria. We have 90 million extremely poor people. Before Buhari, we had less than 55 million. Buhari lied!
6-Buhari described his regime's COVID-19 plan as "successful". An evil lie. Buhari refused to shut our airspace early in 2020, despite warnings, because his daughter and chief of staff were abroad. He endangered us.
7-Still on his woeful COVID-19 response, which he called "successful", his administration never gave Nigerians palliatives. They were given to APC stalwarts. Ghana paid water and electric bills for its citizens
8-Buhari says he's in "pursuit of a fair society". How can our society be fair when the heads of the Three Arms of Government are Northern Muslim Males? It has NEVER happened in our history until nepotistic Buhari!
9-General Buhari claims he has "acknowledged notions of marginalization". He just insulted Igbos as "a dot in a circle". He forgets that Israel is also a dot in a circle of hostile nations and defeated them all!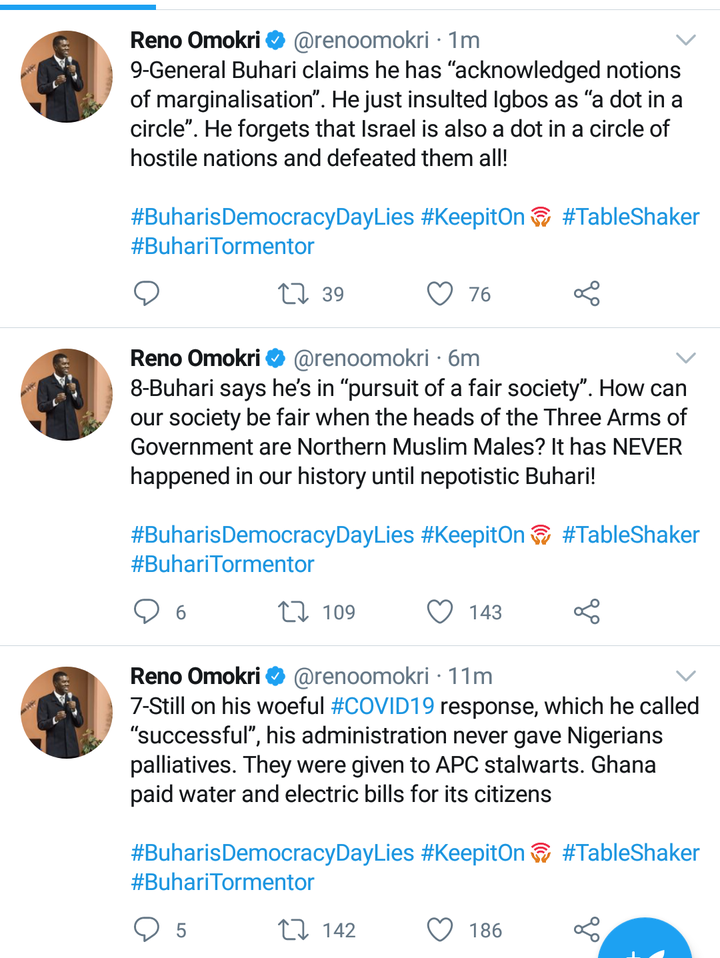 10-Buhari said, "the primary responsibility for constitutional amendments lies with the National Assembly". He is fooling you. He has put his lackeys as Senate President and Speaker to ensure restructuring fails!
Reno Omokri stated Tweeting immediately the President made his speech, he went on Tweeting and claiming that the President lied all along, from the beginning to the end.
Many people have been reacting to the list of lies Reno Omokri claimed Buhari told, you can read the complete Tweet on his official Twitter handle.
Happy Democracy Day Nigeria!